Avoiding Responsibility
Bush is getting more and more pathetic. He talks big about taking responsibility for things, but he always blames somebody else. Drunk driving? Call it a political dirty trick and blame your opponents. Bad economy? Blame Clinton. 9/11? Clinton. Lies about Iraq's nuclear program? Blame the CIA. War in Iraq going badly? Blame the liberal media.
Like a 5-year-old child caught with his hand in the cookie jar, Bush is blaming everyone but himself for his inexcusable behavior and policy failures. That's not taking responsibility, that's called dodging responsibility. And now Bush has taken this vice to a new low.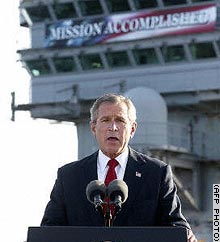 Remember six months ago, when Bush had an aircraft carrier turn around, delaying its entry at port by a day and costing you and me a million dollars so he could be flown in on a jet and be seen wearing his flight suit for PR value? He changed into a suit, then strutted out before the actual military veterans and declared that "major combat operations in Iraq have ended." Remember the "Mission Accomplished" banner that was hung just right so that the cameras could frame Bush with it in the background? That banner's message has come under fire, now that far more U.S. servicemen and -women have died since that PR stunt than before.
Bush is trying to avoid blame for that one, too. It's the Navy's fault, he says. Their idea.
Well, actually, not really. The White House had the sign made. But, they claim, it was the navy's idea in the first place, and they were the ones who strung it up. Yeah. Right. I'm sure the White House didn't have anything to do with suggesting the idea, or with placing it so it could be framed so visibly, right behind the president from the cameras' POV. Those Navy guys are real sharp at this PR stuff, not the White House.
This is pathetic. The only thing that could be even more sad would be if the American people continued to buy these sorry excuses from this miserable coward who himself shirked duty while admonishing others not to do so, who lied to get us into this war and is lying to avoid responsibility for it.